FRIDAY FINDS (by
Should Be Reading
) showcases the books you 'found' and added to your To Be Read (TBR) list… whether you found them online, or in a bookstore, or in the library — wherever! (they aren't necessarily books you purchased).
---
I actually saw these books before, but it only came to my attention that they were part of a series when I read some reviews about them this week. It didn't even occur to me that they were, even if their covers had the similar art style, because they were all from different authors. I thought the cover similarities were merely because they were from the same publisher. Silly me. :P
Also, I find it interesting that this a series with different authors writing for it. I'm sure each book is actually a standalone, and they're just grouped together. What makes me curious is WHY they were grouped together. The covers all look so cute so I wonder what they have to offer.
Fool Me Twice (If Only... #1)
by Mandy Hubbard
Published May 6, 2014
by Bloomsbury USA Childrens
ADD ON GOODREADS
Mackenzie and Landon were the perfect couple . . . until he dumped her and broke her heart. Fast-forward a year and they're back where they first met—Serenity Ranch and Spa, where they are once again working together for the summer. Talk about awkward.

Then, Landon takes a nasty fall and gets amnesia. Suddenly, he's stuck in the past—literally. His most recent memory is of last summer, when he and Mack were still together, so now he's calling her pet names and hanging all over her. It's the perfect chance for revenge. The plan is simple: keep Landon at arm's length, manipulate him so he's the one falling love, and then BAM, dump him. There's just one problem: Mack can't fall for Landon all over again.

The If Only romance line is all about wanting what you can't have, and Mandy Hubbard's hilarious break-up/love story is sure to captivate anyone who has ever wished for a second shot at love.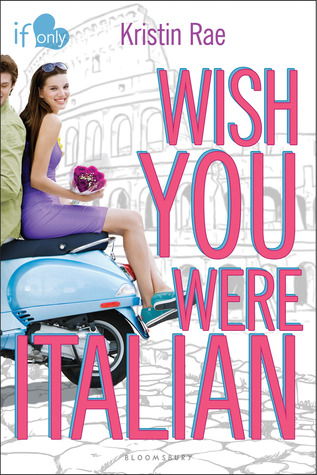 Wish You Were Italian (If Only... #2)
by Kristin Rae
Published May 6, 2014
by Bloomsbury USA Childrens
Pippa has always wanted to go to Italy … but not by herself. And certainly not to sit in art school the entire summer learning about dead guys' paintings. When she steps off the plane in Rome, she realizes that traveling solo gives her the freedom to do whatever she wants. So it's arrivederci, boring art program and ciao, hot Italian guys!

Charming, daring, and romantic, Bruno is just the Italian Pippa's looking for—except she keeps running into cute American archeology student Darren everywhere she goes. Pippa may be determined to fall in love with an Italian guy … but the electricity she feels with Darren says her heart might have other plans. Can Pippa figure out her feelings before her parents discover she left the program and—even worse—she loses her chance at love?
Not in the Script (If Only... #3)
by Amy Finnegan
Published October 7, 2014
by Bloomsbury USA Childrens
ADD ON GOODREADS
Millions of people witnessed Emma Taylor's first kiss—a kiss that needed twelve takes and four camera angles to get right. After spending nearly all of her teen years performing on cue, Emma can't help but wonder if any part of her life is real anymore . . . particularly her relationships. But her new costar, Jake Elliott, couldn't care less about how many scenes he has to fake his way through; he needs the money. Toss in a reckless heartthrob, desperate for a comeback, and a resident diva who may or may not be as evil as she seems, and the production of Coyote Hills heats up in unexpected—and romantic—ways. Along with offering front row seats to the real life drama that often unfolds within the entertainment industry, NOT IN THE SCRIPT is a story about two not-so-typical teens who are searching for themselves, and just happen to find each other.